Or how to resemble an under-decorated Christmas tree: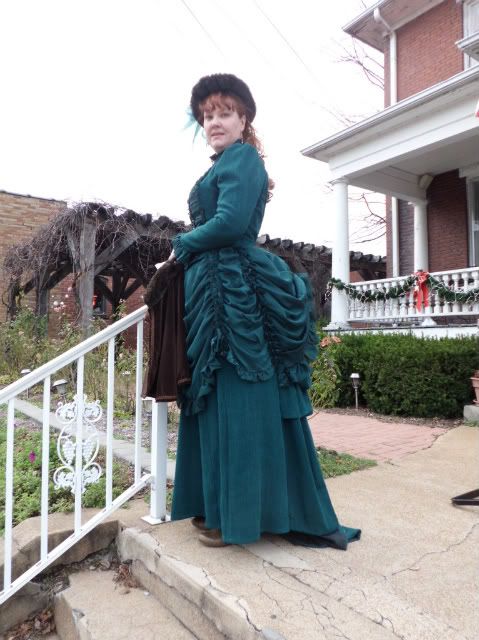 Made for the Victorian Christmas Walk in Ste. Genevieve, Missouri. Fabrics are silk noile, poly chiffon and poly organza. The skirt is the Parisian Trained Skirt. I got over-excited at first and had the skirt headed toward all chiffon, with none planned for the bodice. I took the lower front apron and used it on the back pouf and ruched the chiffon sides up to half the length. The side seams are decorated with ruched organza edged with black serged rolled edge.
I had intended to use the 1872 Vest Basque (I had cut that a while ago) but the skirt turned out so neat that I didn't want to cover it as much as the longer bodice hem would, so I cut the 1884 French Vest Bodice. The ensemble almost works as 1880s from the front, but the back is pure 1870s. Ah well, I wasn't going for accuracy, and almost nobody in the general public would ever be able to tell.
I particularly like how the collar turned out:
I used a new technique for tailoring it: I interfaced and then sewed and turned the inner collar, after which I cut a piece of undercollar canvas to just fit the curved position of the collar. I slid that into the turned collar, basted the inner and outer collars together and applied them to the neck edge. Quick and easy!
The hat is a try at one I like in the La Mode Illustre book that's made of otter fur. My shiny poly fur will never be mistaken for real, but it is wonderfully silky stuff. I decorated it with a scarf of the organza, a few feathers dyed to match and a barrette I got a while ago because I like the color: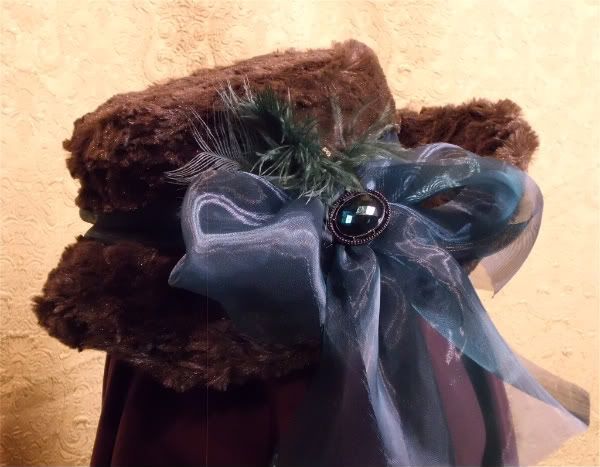 It was supposed to be frigid on the day of the Walk so I made a capelet (Butterick 5265, super easy and quick!) with a fur collar to match the hat. It's cotton velvet lined in brown silk. The day turned out quite pleasant for a lady swathed in pounds of silk so I mostly carried it: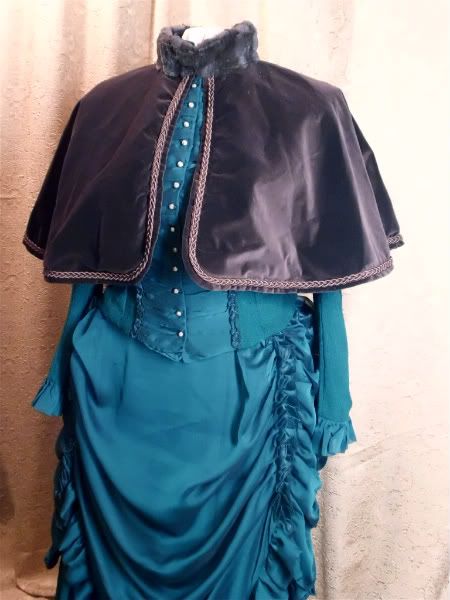 My daughter, who has a firm sense of what matters in bustle dresses, took a short video. Thirteen seconds of swish and wiggle,
click here!