Yes, it's finally done!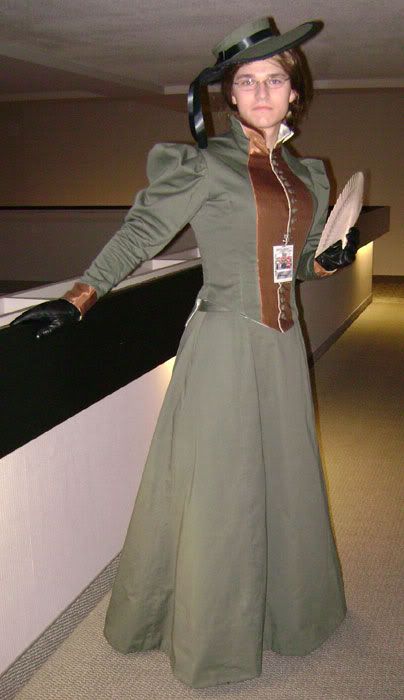 And I know the skirt waistband is showing...I didn't realize it until a few hours after this photo was taken. The bar needs to be moved over again, because I corseted down even farther since adding the previous hook and bar. And I sewed hooks and eyes on the collar, but it was so hot that I had to undo it to get a little relief.
I didn't get any photos from Friday, when the pettis were more stiff and poufy, unfortunately. I will get additional photos taken of the outfit soon, without the Convention Pass clipped to my bodice.
Typical anime convention lineup: Rachel, texting on her phone; Megan, eating ramen noodle soup; me, a crossplaying (cosplaying as a member of the opposite sex); and Katie, dressed up as Pikachu.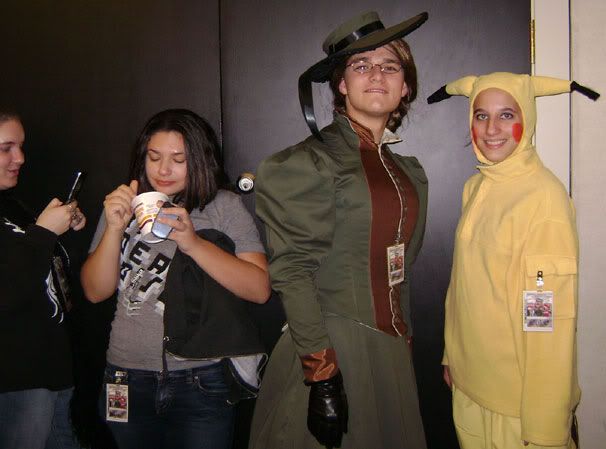 The convention was so much fun; here we're waiting in line to see the masquerade (costume judging and skits). This photo is probably the least flattering, because my hat was so tilted I had to really lift my chin to be able to be seen by the camera. It shows off the sleeves well, though.
For the hat, I wanted elegant simplicity....
Okay, not really.
It was past midnight when I was finishing the hat, and I ended up using double sided tape to make the ribbon bow and hold on the tails!
I could not figure out how to attach the feathers, so I just left everything else off. The lining of the crown isn't in yet either, but it didn't show so I didn't care.
I'll get additional photos from Friday once my friends post them on Facebook.
And Valleyviolet, congratulations on your wedding and a beautiful wedding dress! I was so busy with this outfit that I was never able to respond to your thread. Best wishes for a blessed marriage!\\
EDIT: Another photo, this one is with a new friend I made: