Hey all,
I'm working on a new dress to wear to a Steampunk party on the 30th. I'm using black synthetic taffeta for the main fabric, bright red moire for the trim on the skirt and lapels on the bodice, and red satin piping on the bodice and skirt hem.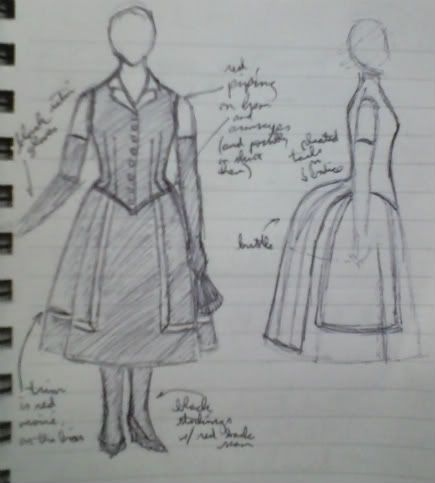 I used the 1870s bustle underskirt, shortened, for the skirt and petticoat, and they both came out beautifully. I made the short version of the Laughing Moon bustle over a year ago, and finally have an occasion to wear it.
I'm using the front and lapels of TV 428 (1880 Jacket Bodice) combined with the back and sides of TV 462 (1883 Tail Bodice). I think I've gotten the mockup fitted as well as I can manage, so I'm going to cut out the taffeta and hope for the best. I'm going to wait until the bodice is nearly finished (including the buttons and buttonholes) to pin and adjust the darts, so I can make sure they're right the first time I sew them.
My question: The Tail Bodice pattern calls for the interlining to stop below the waist on the back pattern pieces. I would prefer to flatline the tails with muslin, and then bag line the whole affair, or even do the flatlining in red cotton, and then just pipe the edges of the tails as a hem, without the separate lining (though that would require a LOT of precise handstitching to finish the piping off and tack it to the flatlining for the best appearance). I'm definitely not going to fully line the main body of the bodice, to save time (the armscyes and hem are going to be piped), but I'm wondering whether any of tail lining options sound feasible, or if I'm completely off base. This is a very crisp and heavy taffeta, but not nearly as thick or substantial as, say, cotton twill or brocade, so I don't think it will drape well without additional support.
Also, just as a note, I've legally changed my name to Emma, and am undergoing a gender transition, which is one reason I've been absent for so long from the forum. I'm a lot happier nowadays and have a lot more friends for support, which is great, and am doing the second half of a two-year stint with AmeriCorps, which has helped me fund both my transition and sewing projects.