Hello all, I am new here and also really new to Victorian costuming.
I am actually thinking of a Steam punk outfit and would like some input.
I plan on buying a leather corset, so I figure I would just need to worry about the skirt, a jacket of sorts, bloomers, and a chemise.
For the skirt I have been eyeing TV374 1886 Bordered Asymetrical Overskirt and for the jacket I have been thinking of TV498 1898 Eton Jacket, but with a 3/4 sleeve. (Mixing decades, I know, but it's Steam Punk, so I figured it was fine
)
I was thinking of nixing the underskirt and make the overskirt cover enough (with a flirty peak at the bloomers, which will be mid-thigh or possibly right above my knee). Would that even work? Does it need a petticoat? (I'm *really* new to all this).
Any suggestions for a short, sleeveless chemise? I will want to tuck it into the bloomers so that the bottom hem wouldn't be seen.
Here is a quick sketch I did on a post-it: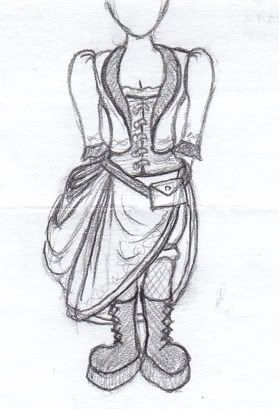 I also have no idea what kinds of fabrics to use. I would like a rich purple for the skirt and a raspberry for the jacket (with black collar) and the trim on the skirt as well.
Any input you could provide would be great.